Features & Specs
Introduction
Self Adhesive PDLC Film
This film is further developed base on standard PDLC film. Back side of the film is coated with self adhesive glue. When it is an existing glass such as windows and doors which are already installed for a while or even for years, replacement with newly made PDLC laminated glass may sometimes not be feasible. Self adhesive film is then the only solution. This film is designed for application on existing windows, glass doors and glass partition as well. It is stick directly on existing glass. No replacement of glass is required. Like the installation of ordinary window films, film installation is done on site. It does not require the glass to be removed. With simple tools and accessories, self adhesive PDLC film is attached to existing glass easily and turns it into smart privacy glass in minutes.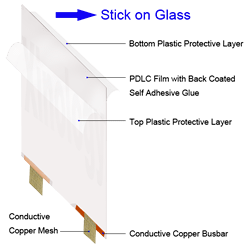 Fully DIY Simple to Install PDLC Film
No Extra Glass Required for Glass Lamination
Film Back Surface Coated with Self Adhesive Glue
Like Standard Film, Self Adhesive Film Delivered with Ready-To-Use Conductive Busbar & Copper Mesh for Wiring
Applicable on Existing Glass
Existing Glass Not Required to Take Out for Sticking
Leaves No Marks & Trace on Glass After Affixing
Fast & Easy Installation Like Ordinary Window Film
Requires Simples Tools & Accessories
No Machine or Oven Required
PDLC Film for Autoglass
We specially develop a special type of PDLC film and production process for automotive glass applications especially for sidelites which are required to rise and descend frequently. The production process requires no extra glass to cover the PDLC film. After processing, autoglass thickness is increased with not more than 1.8mm. The increased glass thickness allows sidelites moving freely up and down at automotive door slots. The special PDLC film and manufacturing process result in ultra bonding between glass and film. Film becomes an integral part of the auto glass and both components merge into an inseparable body. Customers are required to send us autoglass. We shall laminate PDLC film with autoglass and send back to customer. The delivered smart privacy autoglass is already well connected with electrical conductive busbars and copper mesh. Customer is just required to install automobile glass and wire it to vehicle battery. This arrangement is also applicable to any PDLC glass which requires ultra high bonding and meanwhile, single pane glass without doubling glass thickness.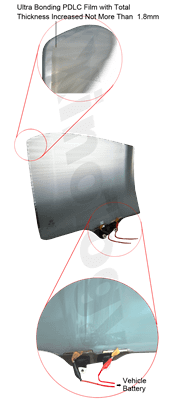 Special Film & Production Process For Ultra Bonding Applications
No Extra Glass Required During Processing
PDLC Autoglass with Only Single Pane of Glass
With Not More Than 1.8mm Increased in Thickness after Processing
Sidelites Move Up & Down Freely
Ultra Bonding Merges Glass & Film into an Inseparable Body
Buyer Delivers Us Glass & We Send Back PDLC Glass with Not More Than 1.8 mm Increased in Thickness
PDLC Glass Delivered with Ready-To-Use Conductive Bus Bar & Copper Mesh
Just Install the Glass into Automotive Doors & Wire to Car Battery
Turns Car Compartment into an Absolutely Private Area with Xinology Ultra Bonding Smart PDLC Film
Applicable in Any Projects with Glass Thickness (As Thin As Possible) & Ultra Bonding are Major Concerns