Installation
Sealing

When one of the cover glass is replaced by solar control reflective coating glass, smart window becomes smarter. It keeps infrared outside. Solar control glass is available in many colors and shading coefficients. It is selected for proper infrared cut and colour scheme giving a comfort environment and fond look. Light transmissions of some solar control glass are very low. Careful selection is required if high transparency of smart glass is main concern. Coating side is always in #2 surface. It is in contact with EVA or PVB encapsulants. Coating never gets contaminated or corrosive.
Water Drainage
Water drains should be design at framework bottom if smart glass is used for exterior applications.
Power Supply & Wiring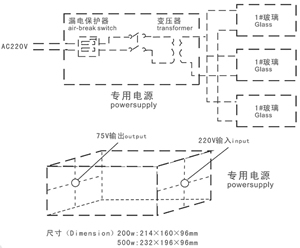 Optional power supply is provided on request. Manual and remote controls are available. Standard power supply has input 220 V and output 75V. Others are on request.
Each PDLC film or glass comes with two pieces electrically conductive copper mesh. Electric wires are connected from copper meshes to power supply.
Power supply should be put where operation and maintenance are convenient and next to 220V / 50Hz socket. If remote control is used, distance between power supply and remote control should be less than 30 m without any obstacles.
Remarks
Installation should be carried out by qualify technicians. Improper accessories and wiring may damage PDLC films.