Features & Spec
IG-HM-SS
IG-HM-SS-200D is a double guns extruding machine with 200kg cavity for single seal.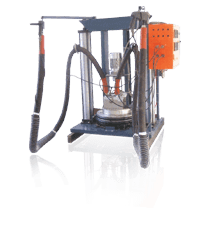 IG-HM-SS-30S is a single gun extruding machine with 30kg cavity for single seal.
IG-HM-SS is specially design to melt and extrude hot melt butyl for single seal insulated glass
It is made of top quality parts and components with first class workmanship.
It is a user friendly single part component extruder. No sealant mixing is required.
No complicated pumping system.
Hot melt butyl is fast cure. Insulated glass could be handled and moved around in a minute after sealing.
Operation is easier and faster especially worked together with IG-PT pressing table and IG-RT rotating table which hold glass in position during sealing.
Models
IG-HM-SS-30S
IG-HM-DS-200D
Extruding Seal Gun
1
2
Max. Hot Melt Loading
30 kg
200 kg
Production Capacity
300 DGU / 8 hrs
(base on 1 x 1 m glass with skilful operator)
800 DGU / 8 hrs
(base on 1 x 1 m glass with skilful operator)
Power
5.5 KW
15 KW
Voltage
380V / 3 Phases / 50Hz
380V / 3 Phases / 50Hz
Weight
150 kg
300 kg