Features & Specs
GBO-E Glass Slumping Ovens
Introduction
Series GBO-E is specially design to make slumping glass with large bending depth. Glass is slump by means of gravity. Typical slump glass is glass washing basins, glass vanity, glass sinks, glass bowls, glass lanterns and any glass items with large bending depths while relatively small diagonal sizes or diameters.
GBO-E-A GBO-E-B
GBO-E-C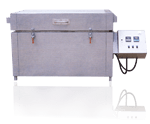 Structure
Oven Body
It is a metal structure painted with high temperature resistant varnish. Oven walls are insulated with thermal preservation materials.
Heating System
There are heating resistors distributed at top of oven in pre-heating, bending and annealing sections. There are thermocouples measuring real time temperatures.
Top Covers Opening
Top covers are opened for loading and unloading. Top covers of GBO-E-A and GBO-E-C are opened by electrical motors with gantry lifting mechanism. GBO-E-B is tilt opened with pneumatic cylinders.
Control System
PLC system controls heating profiles.
Options
MOULDS
GBO-E-A is not delivered with moulds. Moulds are supplied on request. Top quality moulds are non scratch leaving glass free of mold marks. Moulds shapes are available in round, oval and square. Any other shapes are on request.
Specifications
Series
GBO-E-A

GBO-E-B

GBO-E-C

Models
GBO-E-A-4/6
GBO-E-B-1
GBO-E-C-2
GBO-E-C-4
GBO-E-C-8
Colour of Individual Basin
Transparent or Painted with Colors
Transparent
Colour of Basin with Platform (made from one piece of glass)
Painted with Colors
(Polishing Required if Transparent Vanity is Needed)
Transparent
Productivity / Batch
6 Individual Basins
4 Basins with Platforms
1 Basin with Platform
2 Basins with Platforms
4 Basins with Platforms
8 Basins with Platforms
Power
52 KW
16 KW
20 KW
40 KW
70 KW
Votlage
380V / 3 Phase / 50Hz
380V / 3 Phase / 50Hz
Weight
1500 kg
800 kg
1200 kg
2500 kg
4000 kg
Outer Dimensions (LxWxH)
2650 x 2200 x 1400 mm
2000 x 1310 x 1270 mm
2000 x 1800 x 2500 mm
3600 x 2000 x 2500 mm
6000 x 2000 x 2500 mm