Features & Specs
GBO-B Multiple Heating Stations Serial Glass Bending Ovens
Introduction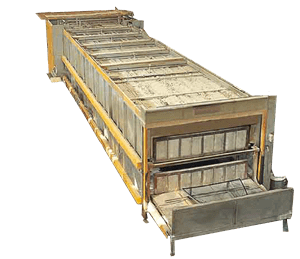 Series GBO-B is a double deck serial glass bending furnace with multiple heating stations. It is a double deck design. The furnaces are composed of several stations. Upper stations are usually for glass pre-heating, heating and bending. Lower stations are for annealing and cooling. Glass is pre-heated, bent, annealed and finally cooled. There are wagons moving around inside the doubled deck structure step by step. Bending moulds are put on wagons. Wagons bring bending moulds and glass in and out of the glass ovens.
Operation
Oven Body
It is a metal structure painted with high temperature resistant varnish. It is a double deck structure with thermal insulation materials. There are observation windows at the upper end of oven.
Wagons
They are usually L-shape with observation windows. Wagons platform and walls are insulated with thermo preservation materials. Both sides of each wagon lie on rollers attached to oven walls. Rollers move wagons inside ovens.
Loading & Unloading Stations
Glass loading and unloading are in the same area. It is exit and entrance of wagon together with bending moulds and glass.
Pre-Heating Stations
The first or first few stations are usually for glass pre-heating. There are heating resistors on top of pre-heating stations. They are used to pre-heat glass before bending.
Bending Stations
It is usually located at the end of upper deck. There are heating resistors on top of bending stations. Glass is finally formed and bent.
Annealing Stations
It is located at the end of lower deck. There are heating resistors to preserve glass temperature so that glass is annealed gradually.
Cooling Stations
It is located at entrance and middle of lower deck. Glass is eventually cooled down here.
Lifting Mechanisms
There are two lifting mechanism powered by hydraulic system. One is at loading and unloading station and another at bending station.
Driving Mechanisms
There are well thermally sealed holes on both sides of oven walls. Rollers are inserted in holes. Rollers are driven by electrical motors controlled by frequency converter. Interior parts of rollers act as supports of wagons.
Control System
It consists of PLC system to control the sequence of each wagon. Heating profile of each type of glass is stored in computer. The pre-set heating profile is loaded from memory when glass is bent in future. Glass would be pre-heated and bent at temperatures according to heating profile. This automatic heating control system is very useful to bend same type of glass at large batch production, for example, windshield.
Operation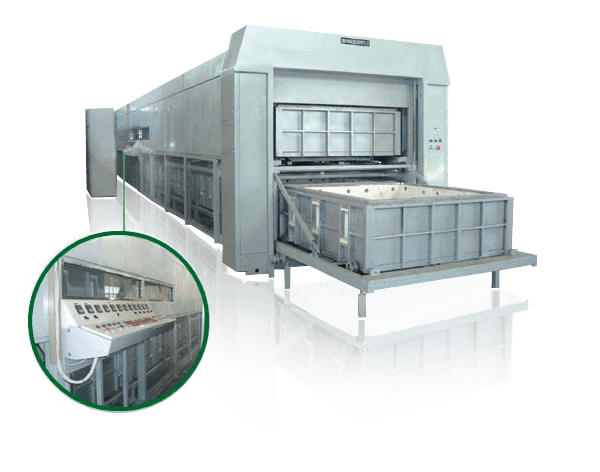 Loading
Glass is loaded manually on bending mould. When it is ready, wagon brings bending mould and glass into next station. Wagon is lifted up to upper deck. It is then traveled to subsequent stations.
Pre-Heating
Glass is pre-heated inside these pre-heating stations. When it moves from first pre-heating station to next pre-heating station, glass temperature is gradually increased.
Bending
Glass enters into bending station with all heating resistors turned on. Glass already gains enough energy at preceding pre-heating stations and so it quickly becomes soft and falls down approaching to bending mold by means of gravity. If it is the fist time to bend this type of glass, operator begins to turn off proper heating resistors with respect to glass curvature until glass edges get in contact around the rim of bending mould. When bending is accomplished, wagon descends to lower deck. All heating resistors are turned off. Operator saves this heating profile in computer. The heating profile will be loaded from computer memory next time when bending this type of glass. Operator is not required to operate heating resistors. The computer will bend the glass automatically.
Annealing
When glass descends from upper bending station, it begins to anneal to reduce glass internal stress. These stations reduce glass temperature gradually according to adequate heating profile. It prohibits glass temperature from dropping too fast and thus, prevents glass from breaking.
Cooling
After passing annealing stations, glass arrives at cooling stations. Glass is cooled down until it is cool enough for handling
Unloading
Wagons bringing bending moulds and glass eventually arrive at unloading station where it was loaded. Bent glass is removed manually. Next piece of flat glass is loaded again. Cycle is repeated. If production is re-schedules, bending mould is replaced with another type.
Control
Conveying of all wagons are done automatically, including lifting up, moving in upper deck through pre-heating station and bending station, descending at bending station, moving in lower deck through annealing station and cooling station till unloading station. If necessary, it could be shifted to manual control of wagons. Heating profile of pre-heating, bending, annealing and cooling of each type of glass is executed automatically. If necessary, heating profile could be adjusted manually during bending. New heating parameters are saved for future operation.
Options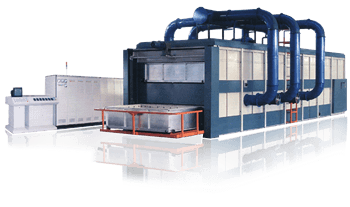 Exhaust Heat Recirculation
It is an air duct system connecting between lower cooling stations and upper pre-heating stations. Heat dissipated of glass at cooling station is conveyed to pre-heating stations. The design saves energy.
Inspection Station
It is a metal structure of tilting rack stand locating in front of loading and unloading stations. Bent glass is loaded in this rack for inspection before moving to subsequent process. Flat glass could also be loaded here for inspection or parking in queue before loading on bending mould.
Specifications
Series
GBO-B-4


GBO-B-10


GBO-B-16


GBO-B-24


Nr. of Stations
4
10
16
24
Available Max. Standard Glass Sizes (Others on Request)
800 x 1500 mm
1200 x 1800 mm
1500 x 2500 mm
2000 x 3000 mm
800 x 1500 mm
1200 x 1800 mm
1500 x 2500 mm
800 x 1500 mm
1200 x 1800 mm
1500 x 2500 mm
800 x 1500 mm
1200 x 1800 mm
1500 x 2500 mm
Max. Glass Bending Depth (Others on Request)
500 mm
250 mm
250 mm
250 mm
Productivity (Depends on Glass Thickness & Bending Depth)
10 ~ 13 pcs / 8 hrs(5 + 5 mm)
80 ~ 100 pcs / 8 hrs(2 + 2 mm)
130 ~ 150 pcs / 8 hrs(2 + 2 mm)
180 ~ 200 pcs / 8 hrs(2 + 2 mm)
Compress Air Consumption
2 Lt / min.
2 Lt / min.
2 Lt / min.
2 Lt / min.
Compress Air Pressure
0.8 Mpa
0.8 Mpa
0.8 Mpa
0.8 Mpa
Installed Power (Actual Power Consumption is Approx. 70% ~ 80% of Installed Power)
160 KW (800 x 1500 mm)
200 KW (1200 x 1800 mm)
260 KW (1500 x 2500 mm)
330 KW (2000 x 3000 mm)
300 KW (800 x 1500 mm)
450 KW (1200 x 1800 mm)
650 KW (1500 x 2500 mm)
520 KW (800 x 1500 mm)
700 KW (1200 x 1800 mm)
850 KW (1500 x 2500 mm)
800 KW (800 x 1500 mm)
900 KW (1200 x 1800 mm)
1100 KW (1500 x 2500 mm)
Voltage
380 V / 3 phase / 50 Hz
Outer Dimensions (LxWxH)
3.8 x 2.8 x 2.8 (800 x 1500 mm)
5.2 x 3.0 x 2.8 (1200 x 1800 mm)
6.5 x 3.8 x 2.8 (1500 x 2500 mm)
8.5 x 4.3 x 2.8 (2000 x 3000 mm)
7.2 x 2.6 x 2.4 (800 x 1500 mm)
10 x 2.8 x 2.4 (1200 x 1800 mm)
13 x 3.5 x 2.4 (1500 x 2500 mm)
13 x 2.6 x 2.4 (800 x 1500 mm)
16 x 2.8 x 2.4 (1200 x 1800 mm)
19 x 3.3 x 2.4 (1500 x 2500 mm)
18 x 2.6 x 2.4 (800 x 1500 mm)
22 x 2.8 x 2.4 (1200 x 1800 mm)
26 x 3.3 x 2.4 (1500 x 2500 mm)