Features & Specs
GBO-C Continuous Glass Bending Ovens
Introduction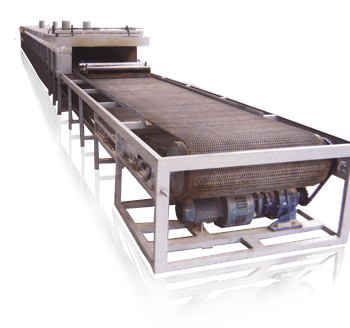 Series GBO-C continuous glass bending ovens is used to bend small medium size of glass. Glass runs continuously from entrance till exit at the other end passing through pre-heating, bending, annealing and cooling sections. This oven is also very suitable for glass bake, glass cook, glass decorating and glass fusing.
Structure
Oven Body
It is a metal structure painted with high temperature resistant varnish. Oven walls are insulated with thermal preservation materials.
Heating System
There are heating resistors distributed at top of oven in pre-heating, bending and annealing sections. There are thermocouples measuring real time temperatures.
Conveying System
Belt conveyor runs from oven entrance till exit at the other end of oven.
Driving Mechanism
Belt conveyor is driven by powerful electrical motor adjusted by speed regulator.
Control System
It is a standalone electrical control console. It controls heating profile and belt conveyor speed.
Specifications
Models
GBO-C-0826
GBO-C-1026
GBO-C-1032
GBO-C-1040
Oven Interior Width
800 mm
1000 mm
1000 mm
1000 mm
Oven Interior Length
26 m
26 m
32 m
40 m
Oven Interior Height
380 mm
380 mm
380 mm
380 mm
Install Power
95 KW
130 KW
145 KW
175 KW
Voltage
380 V / 3 phase / 50 Hz
Outer Dimensions (LxWxH)
30 x 1 x 1.2 m
30 x 1.4 x 1.2 m
36 x 1.4 x 1.2 m
44 x 1.4 x 1.2 m