Overview
Advantages
---
Lowest Energy Consumption
Irradiation Furnace Consumes 27% More Energy Than HTM
Among all kinds of tempering furnaces available in the market, HTM consumes the least energy per square meter of glass. Following data is obtained base on a HTM furnace with 65% loading efficiency. Irradiation furnace consumes 4.9 kWhr/m2 for 6mm glass while HTM only 3.5 kWhr/m2.
| | | | | | | | | | |
| --- | --- | --- | --- | --- | --- | --- | --- | --- | --- |
| Glass Thickness | 4 mm | 5 mm | 6 mm | 8 mm | 10 mm | 12 mm | 15 mm | 19 mm | 25 mm |
| Energy Consumption | 3.3 kWhr/m2 | 3.4 kWhr/m2 | 3.5 kWhr/m2 | 4.3 kWhr/m2 | 5.3 kWhr/m2 | 6.5 kWhr/m2 | 7.7 kWhr/m2 | 9.8 kWhr/m2 | 11 kWhr/m2 |
Increase Productivity
Irradiation Furnace Takes Double Production Time For Low-E Glass Than HTM
Irradiation heating tempering furnace takes approximately 40 seconds to heat up every mm of clear glass. HTM requires only 28 seconds. Production throughput is 30% higher.
Force Air Convection
All convection air is circulated inside heating chamber. No outside cool air is induced into heating chamber. This eliminates extra energy consumption to heat up cool air.
Low Heating Temperature
Heating temperature of HTM is only 680℃ while pure irradiation furnace requires 710℃. This low glass heating temperature does not induce too much heat on ceramic rollers. Consequently, it prevents glass from "hopping" when accelerating into heating chamber.

Controllable Uniform Combo Heating
Air convection is created by high efficiency hot air fans located at two sides of heating chamber. Rotational speed of each air fan is adjustable. When more convection heating is required for certain glass such as low-E, air fans speeds are increased. When loading glass type required more irradiation heating, simply reduce air fans speeds to allow irradiation dominates the heating. With this friendly use combo heating system, uniform heating distribution is very easily achieved in any proportional ratio between convection and irradiation heating.
Low-E Glass High Heating Efficiency
Low-E reflects irradiation heat. By introducing air convection, low-E glass heating efficiency becomes incredibly high. It takes only 5% longer heating time than clear glass. Tempering low-E glass by HTM is as easy as clear glass.
No Time Lost due Thickness Change
Heating time and quenching time are usually not the same. Thicker glass requires longer time in heating chamber than in quenching section. When glass thickness between first batch and next batch is different, HTM requires no waiting time. This increases productivity for thicker glass tempering especially when there is a large thickness changing from batch to batch.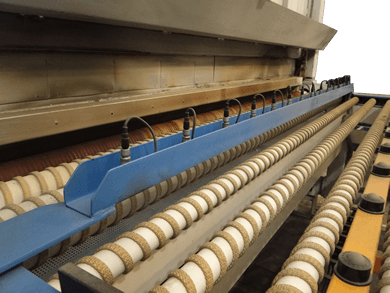 Mix Glass Loading Batch
With combo glass heating technology, mix glass loading on same batch becomes possible. Clear, tint and low-E glass could be loaded within same batch.
Highest Production Yield
Due to absolutely uniform heating distribution across glass thickness and surface, HTM production yield is higher than 99%.
Difficult Glass Becomes Easy
Glass with holes, notches, sandblasted and engraved used to difficult temper, especially when holes are close to glass edges. With HTM, they become easy with very high production yield.
Optical Distortion Free
680℃ low heating temperature and uniform heat distribution result in glass absolutely free of optical distortion. Additionally, HTM avoids glass from curving up inside heating chamber due to low heat induced on ceramic rollers. Thus, bottom center white mark is eliminated.
Perfect Flatness
Glass tempered from HTM looks as flat as it is tempered before. There are no waves and lines.
Excellent Fragmentation
Glass fragmentation test meet all safety glass norms for automotive and building industries. Excellent glass breakage pattern is formed.