Overview
Glass & Mirror Curtain Coating Machine with Drying Oven & Cooling Section for Mirror Back & Glass Painting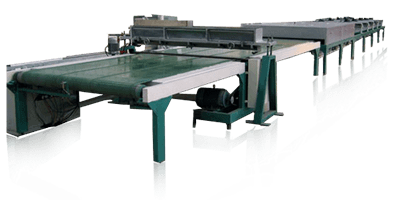 Mirror is always protected with varnish paint. There are several processes to apply mirror back painting. One of the most popular processes is curtain coating resembling to water fall. Paint falls down, by means of gravitation force, through narrow flat opening. It looks like a curtain and so it is named as curtain coating.
After painting, it is required to be dried and cooled down. Right after mirror back Glass & Mirror Curtain Coating Machine, there is always an inline drying oven and a force cooling section to heat, dry and cool the paint. If it is silvering process, curtain coater and dryer are always incorporated in line with upstream mirror line which consists of tinning, silvering and coppering sections. If it is batch type thermal evaporation vacuum coating processes producing, for example, aluminum and chromium mirrors, curtain coater and dryer are put off line. When two layers of mirror back paint are required, one more curtain coater, drying oven and cooling section are put downstream of the first curtain coating line.
In additional to mirror back painting, decorative glass is also sometimes painted with Glass & Mirror Curtain Coating Machine instead of screen printing or roll coating.