Features & Specs
X3000 / X5000 / CE3
---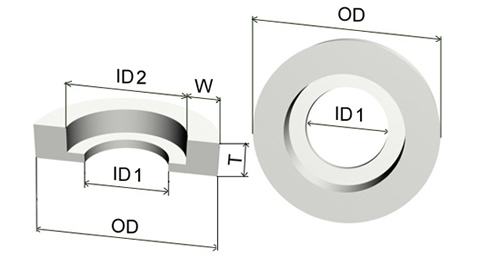 It is compose of high molecular material with a mixture of cerium oxide etc. The high molecular material is carefully selected such that the wheel is high elastic but meanwhile, with super wearability and high strength. The cerium oxide allows ultra bright satin finishing.
The elasticity allows the wheel in full contact with the whole glass edge giving thoroughly polishing but meanwhile, allowing easy discharging of polishing scrap leaving no flaw on glass.
The wheel is a subsitution of felt wheel with cerium oxide powder. When it gets in contact with water coolant, the cerium oxide will slowly detach from the wheel and mix with water giving the glass excellent clarity.
The wheel mostly comes with cup wheel. It is always used in the last step of polishing. The common edge processing is to use firstly metal bond diamond wheel, then secondly resin bond diamond wheel, thirdly 10S or 9R and finally X or CE3 wheel.
Specifications
Item
OD
ID1
T
W
ID2
H
X3000 / X5000 / CE3 OD/ID1/T
X3000 / X5000 / CE3 150/70/30
150
70
30
26
98
8