Features & Specs
BK
---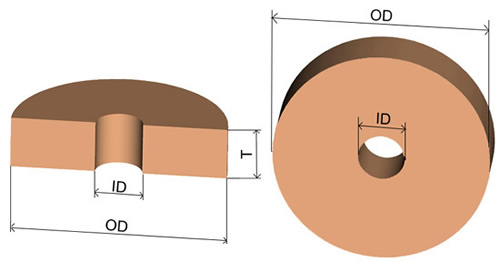 It is compose of high molecular material with a mixture of aluminium oxide and silicon carbide etc. The high molecular material is carefully selected such that the wheel is high elastic but meanwhile, with super wearability and high strength. The metal compounds allow super cutting ability.
The elasticity allows the wheel in full contact with glass edge for complete polishing in any kind of edge profile leaving no flaw on glass.
Thanks to its rigidity, the shape shall not deform nor crack despite of glass edge cutting defect, machine vibration and improper operation.
The common edge processing is to use firstly metal bond diamond wheel, then secondly resin bond diamond wheel and finally BK wheel.
Specifications
Item
OD
ID
T
BK OD/ID/T
BK 150/22/15
150
22
15
BK 150/22/20
150
22
20
BK 150/22/25
150
22
25
BK 150/22/30
150
22
30
BK 200/22/15
200
22
15
BK 200/22/20
200
22
20
BK 200/22/25
200
22
25
BK 200/22/30
200
22
30