Overview
Silicon Rubber Rings Are Necessary Devices During Laminated Glass Pre-Laminating Process Including Pre-Heating And Pre-Vacuuming, Or Sometimes Known As Pre-Pressing.
---
When processing laminated glass with plastic interlayer, for example, PVB interlayer, air is always trapped between two pieces of glass. The air is required to evacuate thoroughly. Or bubbles and de-lamination will be created after autoclaving. Vacuum rings are used to de-air.
Due to cost effective and flexibility, vacuum rings are one of the most popular devices to remove trapped air. Vacuum rings are usually made of extruded silicon rubber strips. Two ends are carefully joined with special skills. A silicon tube is also connected to the ring. This silicon tube is eventually connected to vacuum system. Two pieces of silicon tubes are provided with longer rubber rings used for large glass pane. Two tubes allow faster air evacuation during vacuum.
Cross section of silicon rings are specially designed such that they are easily wrapped and fix around laminated glass edges rims and are also easily removed as well. They must also be 100% air leak proof during vacuum. This vacuum process is usually done at inside ovens at high temperature. So silicon rings should also be heat resistant. Glass edges are recommended to be polished avoiding abrasive on silicon rings during wrapping and removing from glass edges. Xinology silicon vacuum rings are available in two series.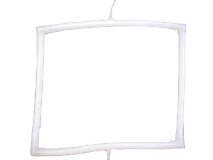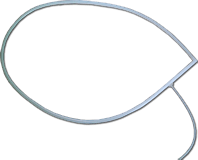 VSR-T is used for trapezoid glass with right angles, obtuse angles or sharp angles. It is applied in flat or bent laminated glass for architectural and decorative purposes. Pre-laminating of flat glass is usually done by roller pressing in a flat glass laminating production line free of vacuum ring. However, tiny VSR-T rubber ring is a substitution to a heavy roller press system. With VSR-T silicon rings, flat laminated glass could be done alternatively in a pre-vacuum and pre-heating chamber which could also process bend laminated glass with VSR-R vacuum rings.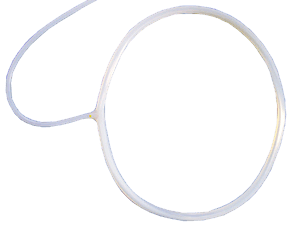 VSR-R is used for flat or bent shaped glass with curve corners and is usually applied in automotive laminated windshield.