Overview
IG-L-AS Series Production Line Designed To Produce Insulated Glass With Rigid Spacer Bars
The spacers could be aluminum, steel, stainless steel and reinforced plastic, etc. The line is composed of washing, drying, assembly and pressing. It can process double and triple glazing or even more. All lines are composed of three processes.
Washing
Glass is always washed and dried thoroughly before assembly. It could be done vertically or horizontally depending on process. It is always achieved automatically.
Assembly
Assembly means to sandwich butyl coated spacer frames in between two pieces of glass. It is usually done vertically which allows spacer frames lay on glass easily.
Pressing
Pressing is used to sandwich and adhere spacer frame in between two glass panes by means of butyl sealant. This is primary sealing process. Pressing could be by flat panel or rollers press. They are usually done vertically. However, horizontal rollers press is also available. After pressing, insulated glass is still a semi-finished product. It has to be secondary or, finally sealed by extruding machine.
Xinology Provides Three Kinds Of Production Line
IG-L-AS-RP-V Vertical Line with Rollers Press
It is suitable for medium size glass fabricators for high productivity.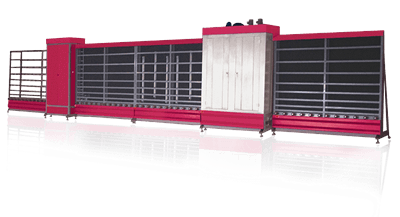 IG-L-AS-PP Vertical Line with Panel Press
It is design for mass production and is especially suitable for curtain wall and façade.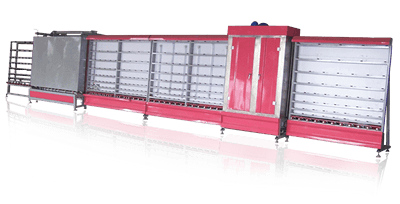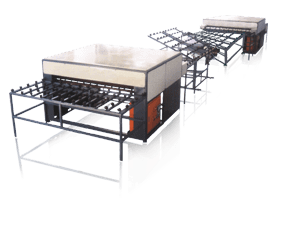 IG-L-AS-RP-H Horizontal Line with Rollers Press
This budget production line is very suitable to manufacture small and medium sizes windows and doors with at maximum flexibility. With lowest possible modification, this line is upgraded to become a combo line to produce also windows and doors with rubber spacer strip.