Features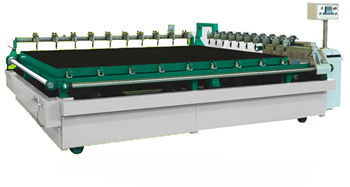 Cutting Table Bed
The machine comes with a perfect flat bed table and its surface is scratch-free to allow glass freely move on table without leaving mark or scratch on glass.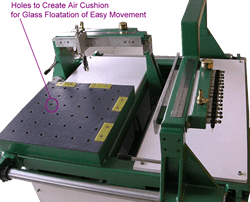 Air Cushion of Cutting Table
There are holes on the flat bed. The holes are connected to an air fan located under the flat bed. It is used to create air cushion for freely movement of glass when registration, or to create vacuum suction to hold the glass in position.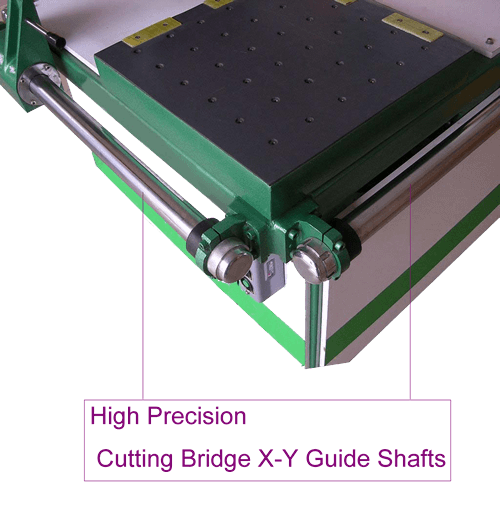 Cutting Bridges
There are two cutting bridges, the X-bridge moves in traverse direction while the Y-bridge moves in longitudinal direction. The bridges are made of sturdy metal structure which is free of deformation. The bridges run on specially treated high precision guide rails. Hence, high cutting precision is guarantee. The cutting bridges are moved either by manual (standard) or by optional electric motors activated by PLC. Manual cutting bridges of some models are inapplicable and only electric motorized cutting bridges are available. It is detailed in Specifications.
Cutting Heads
Cutting heads are put on each of the cutting bridge. Thanks to sophisticated design, the cutting heads could be removed or assembled to the cutting bridges within seconds. The cutting heads could be freely moved along the cutting bridges until requested glass cutting widths are obtained.
The special design of the cutting head allows movement on glass without executing cutting when the bridge moves in forward direction while cutting is executed on glass when the bridge moves in reverse direction.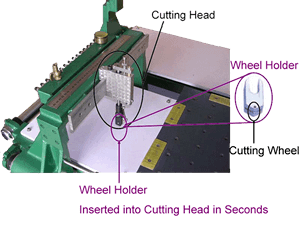 Cutting Wheels & Wheel Holders
Each of the cutting wheels is installed in a wheel holder. The wheel holder is inserted into the cutting head within seconds. This unique design allows the replacement of cutting wheel easily while no tedious adjustment is required after replacement. Cutting could be done immediately after replacement.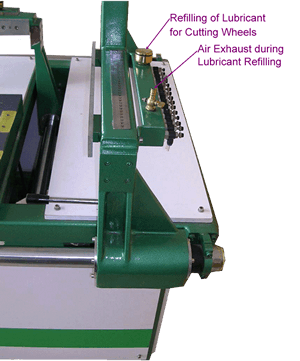 Lubrication of Cutting Wheels
There is an opening hole on the bridge. Lubricant oil is filled in and the lubricant runs to each of the cutting head by means of rubber tubes. During cutting, the cutting wheels are press against glass surface, which releases valves allowing the lubricant to flow through inside the cutting heads and thus, wheel holders and eventually, flow out to lubricate the wheels along cutting lines.