Overview
Bend Glass
Applications
Bend glass is extensively used in a numbers of applications including, but not limited to automotive glass such as laminated windshields and backlites, architectural and decorative glass, atrium glass, glass elevators, glass furniture, glass cabinets, glass basins, glass plates, glass ornaments and glassware, etc. Bend glass could be monolithic single pane of glass, double glass for safety lamination or multilayer glass for armour purposes.
Single Bend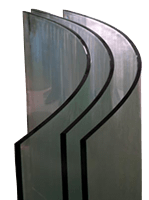 It is a bend glass with single radius of curvature. It is widely found in architectural, decorative glass and glass elevators.
Compound Bend
It is also known as double bend or complex bent. It is a bend glass with double radius of curvature, one in longitudinal bend and another cross bend. Typical example is automotive windshield.
Angle Bend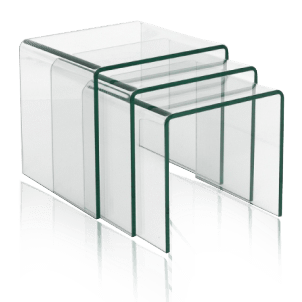 Flat glass is "folded" into angle glass during bending. It could be 90o, larger than 90o, or even less than 90o. The two extending sides could be flat or curve. The glass is widely found in glass furniture, glass cabinet, glass teapoy, glass coffee table and glass aquarium, etc.
Straight & Curve Bend
It is usually found in glass furniture, decorative glass and architectural glass.
Irregular Bend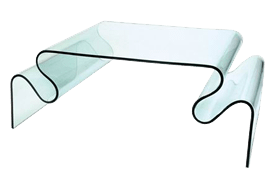 It is usually art design glass for furniture or decoration. Complex elegant curve is obtained with extraordinary glass bending skill.
Spherical Bend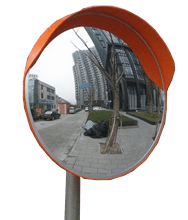 Spherical and aspherical bend glass are usually found in safety mirrors, cosmetic mirrors and car side view mirrors.
Slump Bend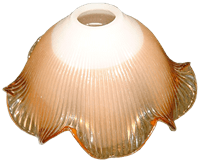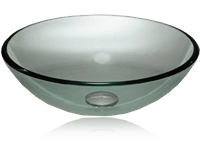 Typical example of slump bending is glass basins and glass sinks.
Fuse & Bend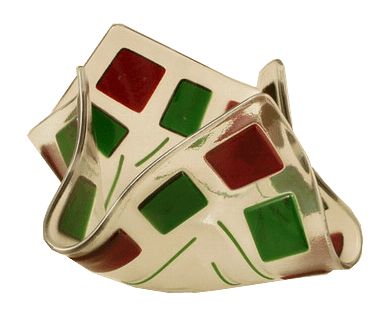 Glass bending requires high temperature. When temperature is high enough for glass softening, glass could be fused. So glass bending ovens are also suitable to fuse glass. If it is bent fuse glass, it is bending when it is being fused.
Armour Bend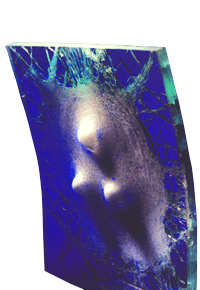 Armour bend glass is extensively applied in armour vehicles.
Other Bends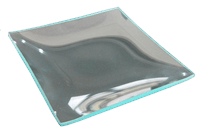 This is usually for glass ornaments and glassware.