Overview
Advantages
Healthy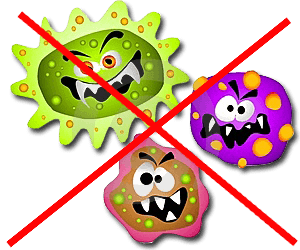 Total Sealed Shutter Keeps
Away from Germs & Bacteria
Numerous gems and bacteria are on exterior blinds and curtains. When window is opened, more dust and bacteria come in and more dust and bacteria adhered on blinds and curtains. You won't touch floor with hand, but you, sometimes, touch blinds and curtains with hand especially when you open or close windows. Children touch blinds and curtains more often. With total sealed internal shutter, shutter has no more germs and bacteria.
Easy Cleaning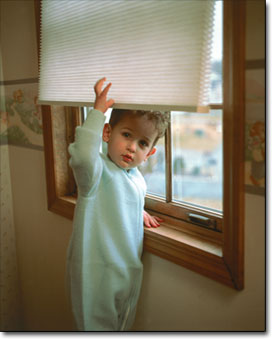 Children easily Gets Infected by Touching
Blinds full of Germs & Bacteria
Cleaning of Traditional Blinds
is sometimes Hard
Washing and cleaning of blinds and curtains are disgusting. Dust is wiped off from blinds and curtains onto other furniture and furnishings. Dust is not vanish but is still around you and children. Vacuum cleaner does not remove dust thoroughly and dust bounce everywhere when vacuum suction tube gets in contact and pat with blinds. If you want to wash blind with water and detergent, you have to remove it and give it shower or bath and dry and eventually put it back to window and door. Is curtain washing easier? When curtain is small enough to fit in your laundry and drying machines, it is fine but you have to wear a mask to prevent dust from inhaling while you are removing curtains. Laundry machine has to be thoroughly cleaned afterwards because curtain may thousands of time dirty than your cloths. When blind is installed internally, blind does not get dirty. All you need is to wash glass panes like you are washing window and door currently. With internal blinds, your house cleaning job is not increased while you enjoy better comfort environment.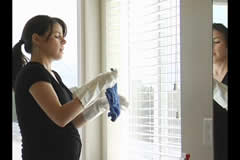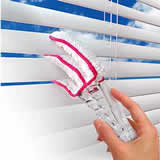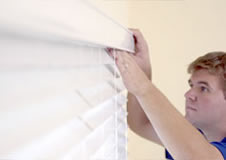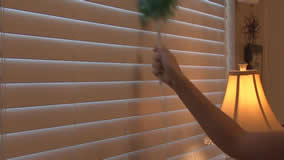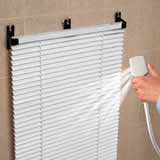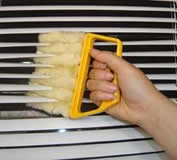 Cleaning Free is better than any Kinds of Cleaning Tools
Flying Curtain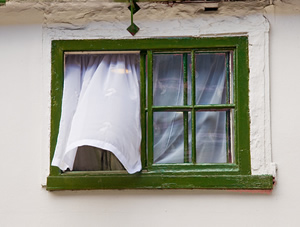 Flying Curtain Gets & Spread More Dust
Have you ever experienced sudden wind flies curtains when windows are opened? Dust would seek the chance to fly further deep inside your house and leave on your furniture and furnishing distance away from windows. While having similar properties of exterior blinds, interior blinds are not blown up to spread dust and sometimes, to clear your kitchenware off table.
Shading Coefficient
| | | |
| --- | --- | --- |
| Items | Glass Description | Shading Coefficient |
| 1 | White Internal Venetian Blind Insulated Glass (5+26.5+5)mm | 0.10 |
| 2 | Black External Blind with Insulated Glass (6+6)mm | 0.10 |
| 3 | Black External Blind with 6mm Single Glass | 0.15 |
| 4 | White External Blind with 6mm Single Glass | 0.20 |
| 5 | Golden Coated Solar Control Glass (66% Light Transmission) | 0.55 |
K Value
Internal shutter insulated glass is 25% to 30% more energy saving than ordinary insulated glass. Exterior shutter could not save energy because there is still air gap between insulated glass and shutter. Exterior shutter also does not prevent heat from entering into interior room at summer time. Heat passing through insulated glass is trap in air gap between shutter and insulated glass. The air gap is inside the room. Heat in air gap is gradually distributed through external shutter.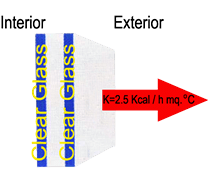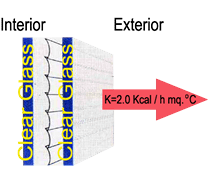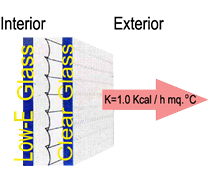 Less Energy is Lost through Window with Internal Blind especially when Window is Composed of Low-E or Solar Control Glass
Natural Light Control
Interior areas which are distance away from windows are usually dim with no natural light. Insulated glass with internal blinds improves interior natural lighting performance. When entering into building or house interior via internal blinds, sunlight is diverted to ceiling or floor depending on blinds orientation. This enhances interior natural lighting efficiency and thus, provides comfort environment.
When blind orients upwards, natural light is diverted to ceiling and is then reflected and diffused into interior areas distance away from windows.
When blind orients downwards, natural light is diverted to floor and is then reflected and diffused into interior areas distance away from windows.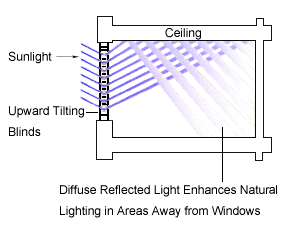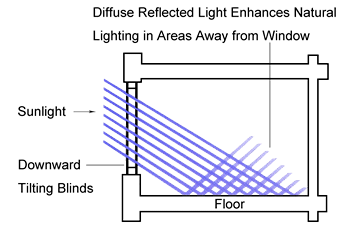 Internal Blinds inside Double Glazing helps Natural Light Reflected & Diffused in those Space away from Windows
Comfort Environment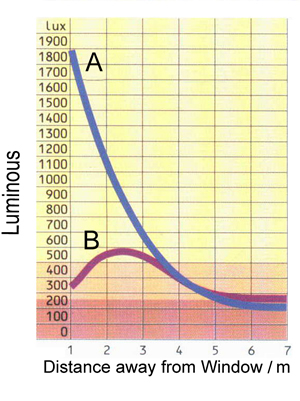 With internal shutter, areas close to window are not too bright. Areas away from window are not too dark. Natural light is fully dispersed throughout interior space.
A: Ordinary Insulated Glass - Areas between 1 ~ 3 m away from window are too bright. It glares and is discomfort for reading, working and leisure. Areas 5 ~ 7 m away from window are too dim. Artificial lighting is required.
B: Interior Shutter Insulated Glass - It is not glaring in those areas closed to window. There is optimum natural lighting for reading at areas 5 ~ 7 m away from window. This is the most comfort reading area. Optimum luminous for reading, working, leisure and laptop watching is between 250 ~ 500 Lux. This is obtained when blind angle is adjusted at 130o ~ 150o.
Privacy
Privacy is obtained when internal blinds are closed. It could be seen through when necessary with just a touch of button.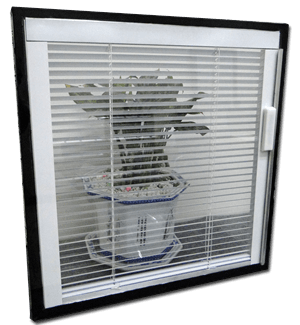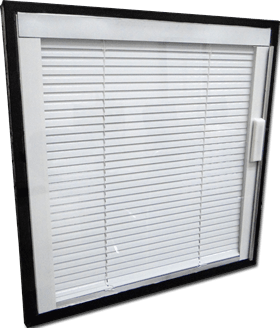 Public Application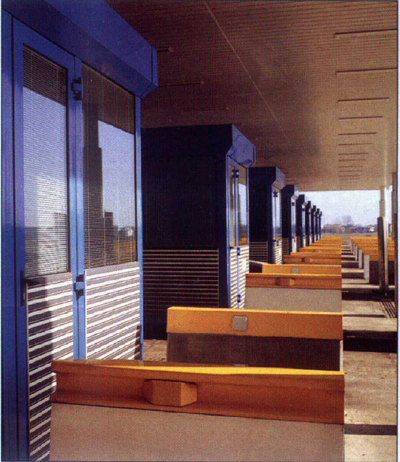 Shutter blind or curtain is usually not found in public areas. This is because exterior blind and curtain are easily damaged either by human behavior, accidental or by mother nature. Internal blind is totally sealed and protected. It could be used in any public areas with no more deterioration or damages.
Heat Barrier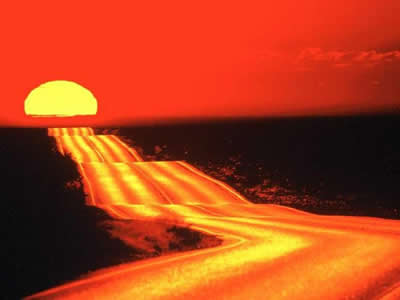 Insulated glass itself is already a good heat barricade. With additional internal blinds, more solar energy is significantly blocked. Of course, the most significant feature of blind is to keep visible light totally reflect. While using glass with adequate thermal properties such as low-e and/or solar control glass, heat insulation is further improved. When insulated glass is selected and placed properly, it helps to reflect exterior heat at summer time while keeping interior warm at winter time.
Glare Free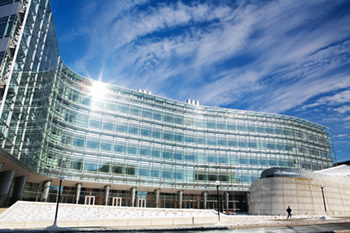 Clear insulated glass with interior shutter bears similar or even better solar control performance as solar control glass. However, solar control glass is color and reflective. It creates glare especially when it is directly reflected sunlight. This provides discomfort environment. Clear insulated glass does not generate any glare while it provides excellent solar control performance.
Sound Proof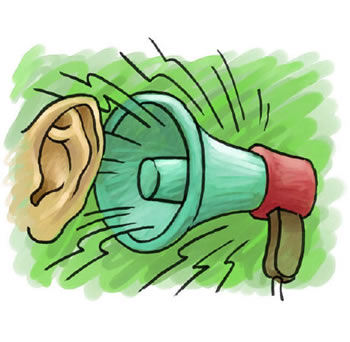 Insulated glass itself has good acoustic damping. With additional internal shutter, air gap is larger than those double glazing without interior blind and thus, sound proof is increased. This large air gap provides 4 times more acoustic proofing performance than ordinary insulated glass. When one of double glazing unit is replaced by laminated glass, sound proof performance is further improved.
Compatible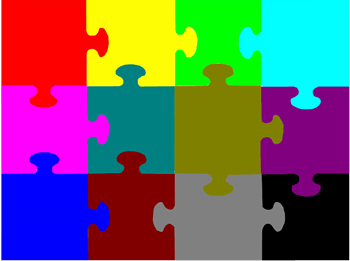 Smart Insulated glass could be composed of laminated and monolithic glass such as clear glass, tint glass, figure roll pattern glass, solar control reflective glass and low-E coating glass, etc.
Low Operating Cost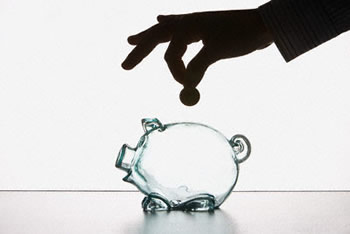 Light control insulated glass consumes very little electricity power. It consumes less power than it takes to operate a simple night-light.
Decoration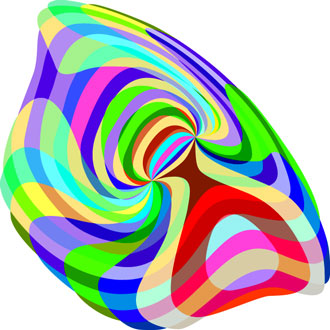 Various colors of blinds are available to match furnishing and furniture.
Reliable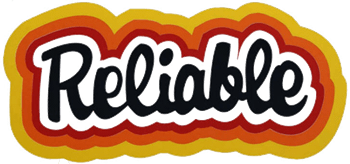 Intelligent insulated glass with internal blind is stable. It never gets tire of up / down movement and angel tilting.
Anti-Aging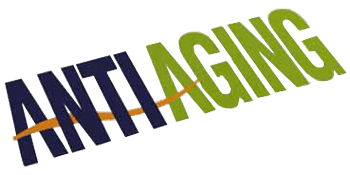 All mechanical and electrical parts and components are totally sealed inside double glazing. It keeps away from UV exposure. Blind is made of the best materials available on market. They resist UV and are fading resistant.
Longevity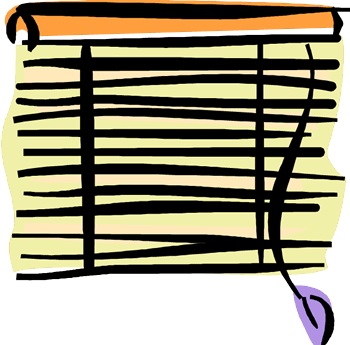 Unlike exterior blinds, internal blinds last longer. This intelligent internal shutter is totally encapsulated inside double glass and thus, it is not affected by improper handling and wind. It lasts as much long as the window and door.
Safety & Security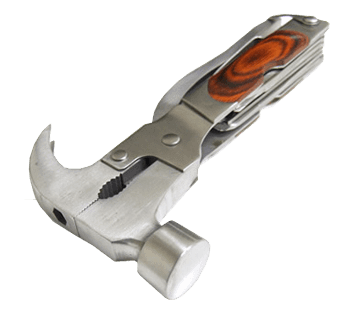 When privacy insulated glass is composed of laminated armor glass with multi-layers of glass and/or polycarbonate and proper interlayers such as PVB or EVA, it becomes a splinter-proof high impact strength light control glass. It is applicable in those areas where vision is required while security is also concern.
Easy Installation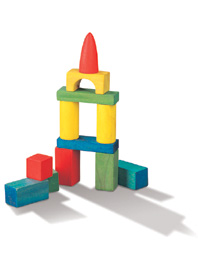 Installation is as easy as ordinary window and door.
Wireless Control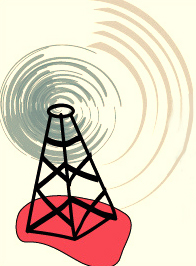 The up and down and angle tilting movements could be controlled manually, electrically and/or wirelessly. Remote control could be kept by audit to prevent children from curios.
Maintenance Free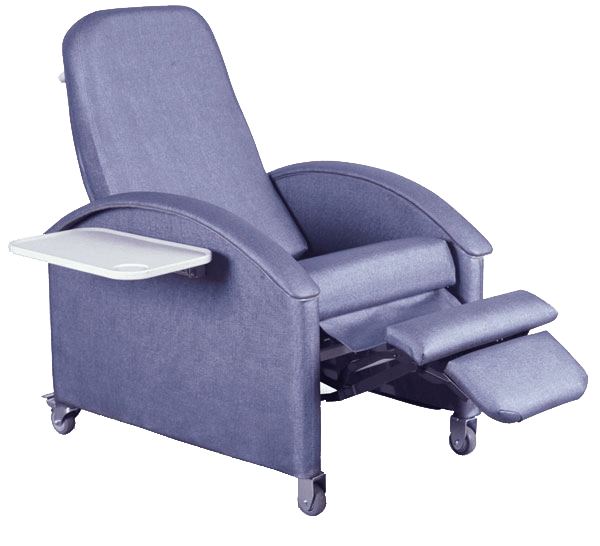 Top quality mechanical and electrical parts and components are carefully selected. They are all totally and neatly sealed inside double glazing unit. No maintenance is required.
Environmental Friendly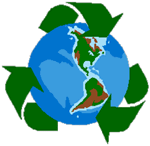 Ordinary insulated glass is already energy saving. Additional interior shutter and blind further improves energy saving. Exterior shutter, blind and curtain are no more required. This saves plenty of water for washing.
Fast Payback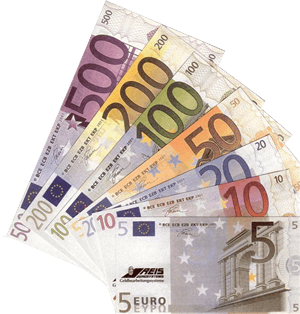 Though smart insulated glass window is comparatively costly than traditional window, payback time is short when followings are taken into account.
Capital investment of exterior luxury curtains, shutters and window blind are, sometimes, expansive
Labour, water and electricity costs for curtains, shutters and window blinds washing
Regular maintenance costs of exterior shutters, curtain and window blind
Luxury drapery requires professional care, resulting in expansive bill.
Medical costs due to respiratory diseases caused by external dusty curtains, Venetian blinds and shutters
Temperature is not controlled and thus, more energy of air-conditioning and heating are consumed
Artificial lighting costs in those areas further away from window
Popular

This cutting-edge insulated window is not a developing technology. On the contrary, DGU with isolated blind is well develop and is proven to be very mature and successful technology. In fact, intelligent insulated glass is already around your daily life for years. It looks like ordinary insulated glass with exterior shutter when observing from outside. Insulated glass with internal shutter is the ultimate window and door for comfort.