Overview
Glass Bevelling Machine Produces Extraordinary Bright Bevel Finishes
G-VB series vertical type machines consist of several diamond cup wheels and felt polishing wheels. When glass passes wheels vertically, certain inclined angle of straight glass edge is removed and crystal clear satin bevel finish is obtained. Bevel glass is found around us such as bathroom and makeup mirrors, table top and dinning table, etc.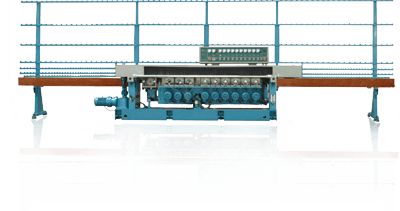 G-VB-371M straight glass beveller has 10 spindles with basic PLC controlling pneumatic felt polishing spindles.
G-VB-371A straight line glass beveller has 11 spindles with HMI touch panel operator interface and full feature PLC regulating glass thickness, bevel width, bevel angle and pneumatic felt wheel polishing spindles.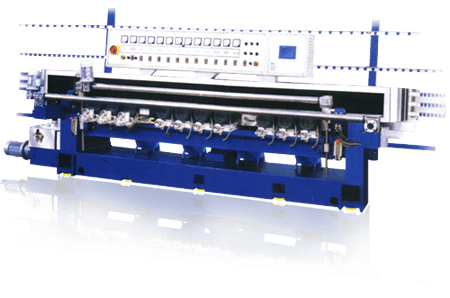 G-VB-371B vertical straight line glass bevelling machine equipped with the latest glass bevelling technology available in the market. With PLC and HMI touch panel operator interface, it polishes up to 60mm bevel width and 2.5o to 45o bevel angle at maximum 40mm glass thickness. Sophisticated up and down rear guide track bevels as minimum as 20 x 20 mm.