Overview
Overview
---
Glass low-e edge deletion tools and machines are used to process and remove coating of glass surface along glass edge. Xinology provides several types of low-e glass edge deletion and decoating and processing tools and machines including handheld tools, semi-automatic and fully automatic machines.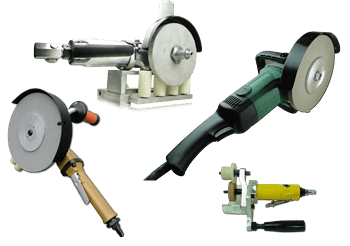 Portable Low-E Glass Coating Edge Deletion Handheld Tools
Light & Carry Around Easily
Power Driven by Pneumatic or Electricity
Decoating Wheels' Diameters Range From 58mm, 100mm Till 200mm
Why Edge Delete
Due to energy saving and environmental friendly, low-e coating glass becomes more important in architectural and building industries. Low-e coating is a very delicate thin film depositing on glass surface. Therefore, low-e glass is always insulated with another piece of glass. Low-e coating always faces in the inner side of double glazing. The space is either ordinary dry air or filled up with inert gas. The dry air or inert gas would not corrode the low-e coating. This protects low-e coating from corrosion.
The spacer between two pieces of glass is always separated by spacer bar. Spacer bar could be aluminium, steel, stainless steel, reinforced plastic or rubber. Due to its excellent moisture proof, butyl is chosen to be the adhesive to seal between spacer bar and glass. However, the adhesion between butyl and low-e coating does not perform well. Consequently, it is always required to remove the low-e coating around the edges of the glass. This process is known as low-e edge deletion. After low-e edges are deleted, glass edges are exposed. Butyl gets in direct contact with glass. This allows the adhesion in best performance.