Options
Tool Shanks & Broaching Nuts
Tool shanks is something like a tool holder where tool is attached. Broaching nut is a protruded part screwed and fix on collet chuck attachment. Tool is always attached and fix on tool shank.
This assembly tool set is placed on tool station. When working head moves to tool station to pick up tool, it approaches to correct tool position which is already pre-set.
The spindle of working head has a female coupling. The female coupling moves and comes in contact with male like collet chuck and broaching nut until they are inserted and locked with female coupling with the help of compress air.
Tool station allows parking of totally 12 tools. It is usually recommend to have at least 12 sets of tool shanks and broaching nuts. Rest of them are for spare. If there are not enough tool shanks and broaching nuts, disassembly and assembly may be required every time when tools are replaced at tool station.
This option is compulsory.
Tools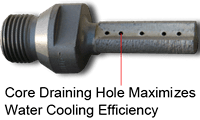 All tools are made of the best materials with world's first class workmanship. Some tools bear internal water running core & draining holes for the highest cooling efficiency.
Tools usually come with threads screwed & locked into collet chuck.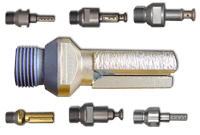 Tools usually come with threads screwed & locked into collet chuck.
Remote Control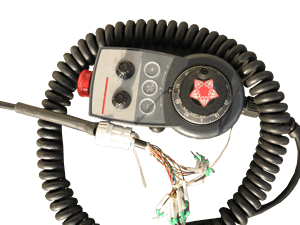 On the keyboard of control cabinet, there are several buttons which are used to move each axis of the machine. When button is press, corresponding axis is moved until button is released. However, operator may be required to observe axis motions closely during operation. He is not next to control cabinet and he is unable to press axis motion buttons. This optional remote control is helpful in this situation. It is a handheld button controller with coil cable wiring to control cabinet. He manipulates axis motions with close observation by means of handheld remote control.
Air Compressor
One of major functions of compress air is to lock and unlock tool shanks and broaching nuts assembly with spindles of working heads. The 4 KW air compressor consumes 0.6m3/min air quantity at 0.8kg/cm2 air pressure.
Moisture Separator
Compress air powers the locking and unlocking of spindle with broaching nut and tool shank. Spindle, broaching nut and tool shank are high precision components. They must be maintained to run in perfect shape. Compress air should be free of moisture . Moisture separator is used to guarantee dry input air. The capacity of this 30 HP separator is 3.8 m3/min. Filter and filtration core are included.