Introduction
Compact design with total stainless steel enclosure
Powerful BGW Bend Glass Washer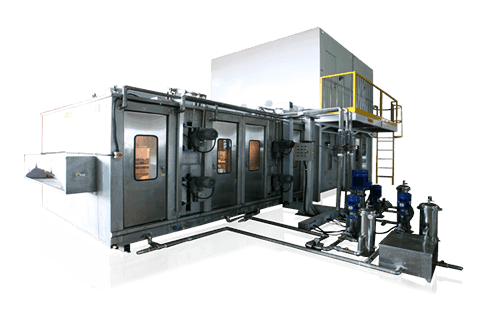 High Pressure Water Jet Glass Washing
Wash any Shape and any Kind of Bend Glass
Anti-Static System
Pressure Balance Compensation System
Optional Adjustable Sectional Conical Brushes
All Stainless Steel Structrue
Adjustable Air Knives Conform to Different Glass Curvatures
Travels Up to 15m/min. High Speed
Extremely High Throughput
Powerful Air Blowers Guarantees Glass 100% Dry
High Efficient Water Flow Heaters
PLC with Touch Panel Operator Interface
Total Enclosure Absolutely Free of Splashing Water
Doors Accesses for Maintenance
Window on Enclosure Allows Monitoring During Operation
No More Vaccum Clean to Remove Separating Powder
No More Dust Flying inside PVB Assembly Room
This machine is used to wash and dry bend glass which includes, automotive glass, curve glass for kitchen appliances and electrical appliances, bend glass for furniture, architecture and decoration etc.
For windshield production, two pieces of glass are separated by powders when bending inside furnace. After bending is completed, the two glass pieces are detached and the powders are, generally, removed by vaccum cleaners inside a climatic control room where PVB is assembled immediate after powders removal. This process requires a lot of work load and labour forces. If vacuum cleaner is inefficient, dusts fly everywhere inside assembly room. If necessary, autoglass, such as windshield, backlites and sidelites are also washed and dryied prior to packing.
BGW bend glass washing and drying machine is used to wash curve glass thoroughly by means of high pressure water cleaning system. If necessary, an optional conical rotational brushes system could be equipped on request for additional cleaning. The glass is then dried by air knives system powered by air blower system.
This fully stainless steel built machine is designed to meet the most serious standards and is fabricated with first class workmanship.
All stainless steel structure guarantess 100% rust-proof

Control panel with all operations and adjustments access

Full features HMI with user friendly touch panel operator interface